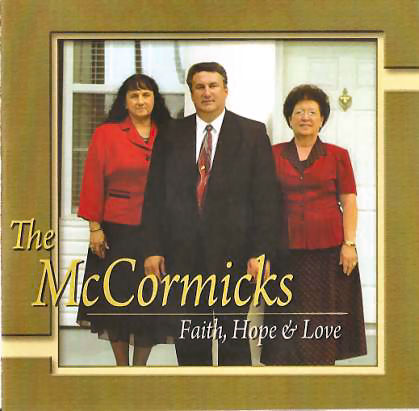 The McCormick's Peggy, Tommy and Mary, have maintained their true style of Gospel Music for over 40 years; It is a compilation of Southern Gospel, Bluegrass Gospel, and Country Gospel. With a style of their own, the McCormicks continue to bless thousands of people with their wonderful music and ministry.


With the "Faith Hope and Love" CD, the McCormicks once again bring to life the Truth of the Gospel in everyday experience we all go through, An uplifting look at how God blesses us in our daily walk with him, Peggy is an accomplished songwriter and singer. Her ability to write and sing the songs that touch your heart and deliver God's message for us is remarkable.

This CD features several songs initially recorded by the McCormicks on the Songs of Faith Label in the 1960's; as well as new songs, and some great old standards. Traditionally the McCormicks have not recorded an album with out at least one Molly O'Day song, and this one is no exception, with a great rendition of "Just as the Sun Went Down".

"Faith Hope and Love"
1- I Saw the Light
2- My God is Real
3- Spirit of The Dove
4- Longing for Home
5- The Hem of his Garment
6- Lay Me Down in the Arms of Jesus
7- Just as the Sun Went Down
8- Faith In Jesus
9- Religion the Old Time Way
10- Joy Comes in the Morning
11- Four and Twenty Elders
12- Come See a Man
13- Leader of the Band

To Order this CD or other CD's by the McCormicks
please send $12.00 S&H included or
contact
the address and phone number to the right.

"Faith Hope and Love" also features a touching song by Tommy McCormick in tribute to his father Pappy Neal McCormick who passed away in 1998. "Leader of the Band" expresses Tommy's love and admiration to his father for many, many years of music, and family.

Mary McCormick performs one of the most requested songs, written by Peggy, which tells the true story of a mother who requests the family to " Lay Me Down in the Arms of Jesus", just before she passed away. It is a touching reminder that we will all somday be welcomed home by the Master!

The McCormicks prayer to continue working to seek God's in your life as you travel this road.

May my words be soft and gentle spoke with mercy
and with love may my life respect your grace Lord;
with the Spirit of the Dove..

For Bookings Contact:

Straight Arrow Studios
7126 Camp Flowers Road
Youngstown, Florida- 32466


850-722-8398